Warmly Invite You to Join us in Embedded World 2017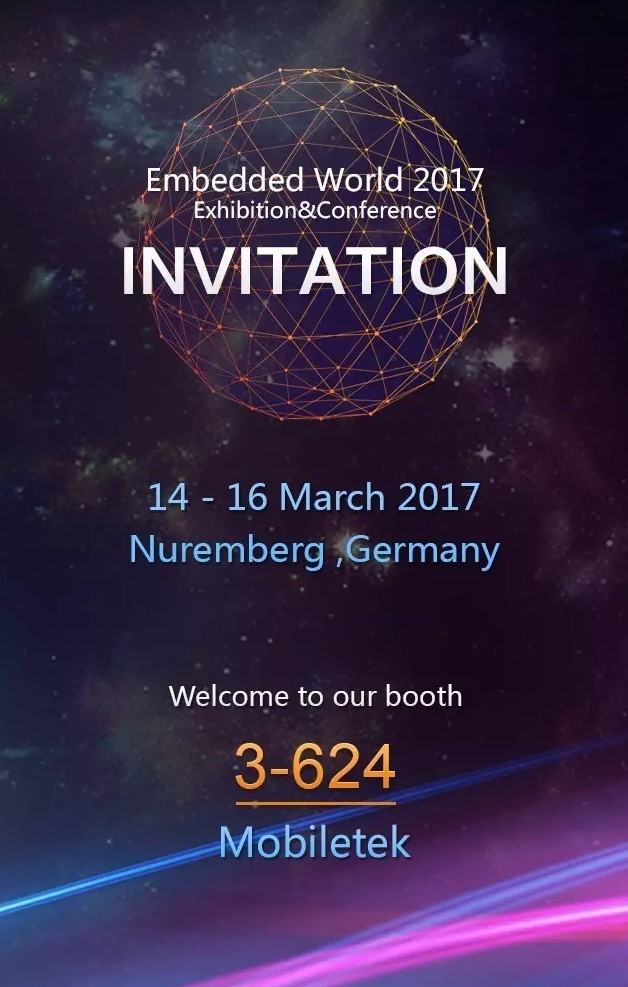 The embedded world Exhibition&Conference in Nuremberg offers the embedded community the opportunity to obtain information about new products and innovations, enter into an exchange and to maintain and develop valuable contacts. Around 900 exhibitors are presenting state-of-the-art technology in all facets of embedded technologies, from construction elements, modules and complete systems through to operating systems and software, hard and software tools right up to services covering all aspects of embedded systems.
As one of the leaders in IoT Modules, Mobiletek will bring the newest NB-IoT/eMTC modules with GSM/3G/4G Module solutions join the Exhibition. We warmly welcome you to our Booth at 3-624,The Exhibition Centre Nuremberg, Germany.
About Mobiletek
Mobiletek Communication Ltd., was founded in 2009 and is one of the leaders in Internet of Things (IoT). We offer wireless technology and solutions, including2G, 3G, 4G wireless modules and GPS/GNSS modules,and NB-IoT modules, and wireless applications which are consistently integrated with latest wirelesstechnology for global customers.
Next Exhibition:
Suzhou 2017 China International Internet of Things Exhibitiom(Spring fair)