L506 Introduction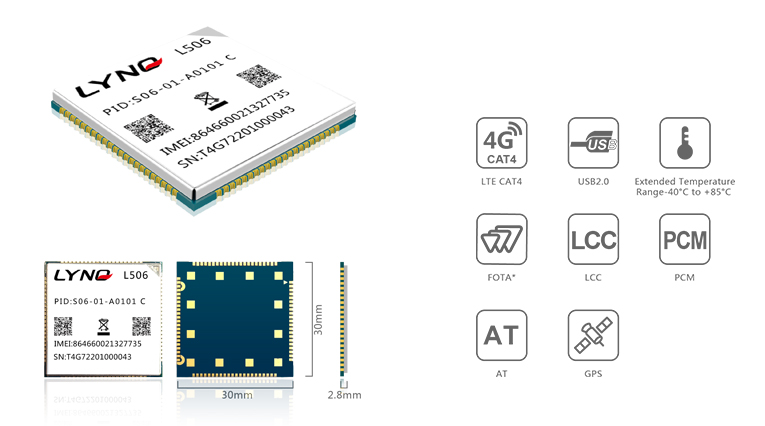 Overview
L506 is a LTE module with excellent reliability, occupied small area base on industry-leading qualcomm MMD9x07 platform, It maximum support 150 Mbps downlink and 50Mbps uplink data rates. L506 is a multi-band TDD-LTE/FDD - LTE/TD-SCDMA/WCDMA/CDMA type module and completely compatible with existing EDGE and GSM/GPRS network.
The area of L506 is extremely small, its only cover 30.0 x 30.0 x 2.8 mm with LCC package, cost optimized SMT form and high integrated density make it convenient for customer to design their own application products,which can make them feel the benefit of small size ,low power and high mechanical density.
L506 has extensible interface (USB, UART, PCM, etc.) and function (Windows XP, Windows Vista, Windows 7, Windows 8, Linux, Android driver), It can be widely used for various products and equipment which have wireless network function.
Feature
General Features
AT command
3 GPP TST27.007, 27.005 and enhanced the AT command
Voltage range
3.4 ~ 4.2V (3.8V is recommended))
Operating temperature range
-40 ~ +85℃
Dimensions
30.0mmX30.0mmX2.8mm
Specifications for Data
TD-HSDPA/HSUPA
Max. 150Mbps(DL)
Max. 2.2 Mbps(UL)
Max. 4.2 Mbps(DL)
TD-SCDMA
Max. 128Kbps(UL)
Max. 384Kbps(DL)
HSPA+
Max. 5.76 Mbps(UL)
Max. 42 Mbps(DL)
EVDO
Max. 3.1Mbps(UL)
Max. 1.8Mbps(DL)
EDGE Class
Max. 236.8Kbps(DL),Max. 236.8Kbps(UL)
GPRS
Max. 85.6Kbps(DL), Max. 85.6Kbps(UL)
Interfaces
Other Features
USB driver for Microsoft Windows XP/Vista /7/8
USB driver for Linux/Android
TCP/UDP/PPP/FTP/FTPS/HTTP/HTTPS/SMTP/POP3
Certification