T100 Introduction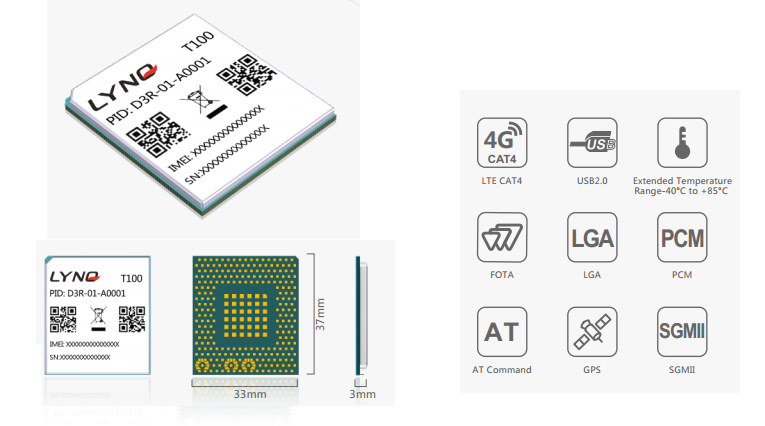 Overview
T100 is a automotive grade LTE module based on qualcomm MDM9628 platform. It is designed and manufactured in strict accordance with IATF16949 quality standard.
T100 is amulti-band FDD-LTE/TDD - LTE/TD-SCDMA/WCDMA/CDMA type module and completely compatiblewith existing EDGE and GSM/GPRS network.The size of T100 is 33 x 37 x 3 mm with LGA package, T100 has excellent protection for ESD and EMI,It is designed specifically for the automotive industry and poor working environment application scenarios.
T100 has extensible interface (USB, UART,SGMII PCM, etc.) and function (Windows XP, Windows Vista, Windows 7, Windows 8, Linux, Android driver), It can be widely used for various products and equipment which have wireless network function ,and it is especially suitable for automotive products and related applications.
Feature
Main Features
TDD LTE
B34/B38/B39/B40/B41
AT command
3 GPP TST27.007, 27.005 and enhanced the AT command
Voltage range
3.4 ~ 4.2V (3.8V is recommended)
Operating temperature range
-40 ~ +85℃
Storage temperature range
-45 ~ +90℃
Dimensions
33.0mmX37.0mmX3.0mm
Specifications for Data transfer
LTE
Max. 50Mbps(UL)
Max. 150Mbps(DL)
TD-HSDPA/HSUPA
Max. 2.2 Mbps(UL)
Max. 4.2 Mbps(DL)
TD-SCDMA
Max. 128Kbps(UL)
Max. 384Kbps(DL)
HSPA+
Max. 5.76 Mbps(UL)
Max. 42 Mbps(DL)
CDMA
Max. 307.2Kbps(UL/DL)
1xEV-DO
Max. 1.8Mbps(UL)
Max. 3.1Mbps(DL)
EDGE Class
Max. 236.8Kbps(DL),Max. 236.8Kbps(UL)
GPRS
Max. 85.6Kbps(DL), Max. 85.6Kbps(UL)
Interfaces
Other Features
USB driver for Microsoft Windows XP/Vista /7/8
USB driver for Linux/Android
TCP/UDP/PPP/FTP/FTPS/HTTP/HTTPS/SSL/TLS/SMTP/POP3/ MMS/MQTT